The Executive Simulator
Take advantage from what The Executive Simulator has to offer: the most renowned golf courses from the PGA tour are now coming to your house with the help of the most advanced golf simulator of the moment.
Are you ready for the most thrilling entertainment experience? The Executive Simulator does not only provide you with the best golf simulator on the market, but it can also be transformed in to a state of the art home theatre. Don't be selfish, share its capabilities with your whole family by gathering and watching the latest high definition movies in perfect conditions.
The Executive Golf Simulator is capable of making your days brighter by offering countless hours of pure entertainment whether you are training in order to become a better player or organizing tournaments with your best friends. Play your favorite game and watch your favorite movies with the help of The Executive Simulator.
Feel the realism
With the help of the most modern components, The Executive Simulator is capable of providing the highest level of realism by rendering extremely detailed graphic details in order to make you feel how it is like to be on several of the world's most famous golf courses.
Advanced computer vision ball & club tracking
The advanced ball and club tracking technologies will offer you the chance to have a look over every detail of your game, starting with the swing and the shot. Correct your tiny mistakes and make huge steps forward towards becoming a better golf player.
With the help of some of the most advanced high definition cameras and sensors, The Executive Simulator catches every detail of your game and analyzes it before offering an in depth report.
The highest reliability
A golf simulator is not an electronic device that will be changed every year. Every person that buys one thinks about using the simulator for a longer period and this is why it is extremely important to benefit from the highest level of reliability and durability on the market. Have no worries because The Executive Simulator integrates the highest quality components and is built by a team of extraordinary people that know exactly what they are doing.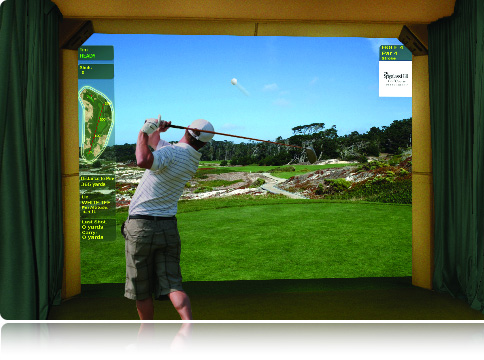 Learn and train at home
The Executive Simulator offers you the chance of getting as many training hours as you want at home, without travelling to a golf course. So whenever you feel like practicing a swing or two, you simply go to the simulator and start enjoying the ultimate golfing experience.