Simulator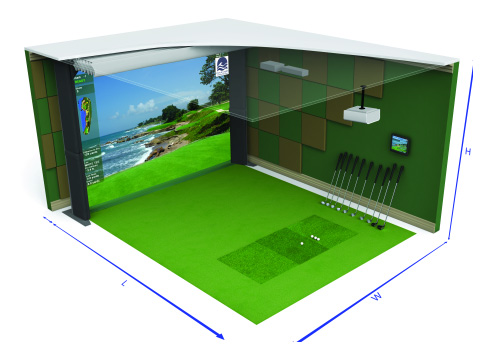 Our amazingly realistic golf simulating systems offer an exquisite golf experience on some of the world's most famous golf courses. High Definition GolfTM simulators feature unprecedented reliability to capture every aspect of some of the most recognizable golf courses in the world including: Banff Springs®, Bethpage Black®, Troon North®, Harbourtown®, Doral®, Spyglass®, Kiawah Island®, Pinehurst® and Pebble Beach® among many others. These simulators provide users with comprehensive measurements such as spin axis, club speed, ball spin, club face angle, and launch angle at amazing accuracy.
We offer three simulator models so you can choose the one that best suits your needs. Our models include:
The Executive Simulator H 9' x W 12' x L 20'
The Standard Simulator H 10' x W 14' x L 20'
The Championship Simulator H 11' x W 15' x L 20'
None of the above require any complicated set-up and each of them can be purchased as a complete system package. The main simulator components included in the package are a 19" touch-screen console, HDTV compatible high brightness projector, highly advanced desktop workstation, HD GolfTM precision ball tracking system, a 250W stereo sound system, pro-grade nylon golf turf and tee mats. The software includes competitive events and games, club fitting, world's most famous championship golf courses, trajectory analysis, chipping and putting greens, swing path and club face analysis tools.
Feel free to check the technical specifications below:
Simulator screen assembly/frame:
Executive model - Multi layer screen/Steel frame 12'x9' w
Standard model - Multi layer screen/Steel frame 13.5'x10' w
Championship Model - Multi layer screen/ Steel frame 15'x11' w
Touchscreen:
Resistive Touch Screen, 19" LCD
Computer:
Dual Core processors, Dell Precision T3500 workstation, 500GB HD, 2 GB DDR3 RAM, Nvidia GeForce 9500 Dual DVI
Projector:
3LCD 5000 lumen digital projector
3LCD Projector 3000 Lumens
High Definition Golf Software Package:
Tournament play system
Clubfitting software
Player statistics
Advanced ball tracking and trajectory analysis
Multi-language: Japanese, German, French, English, Spanish, Chinese, Korean
Club comparison software
Games
Complete practice facility
15 championship golf courses
Swing Dynamics Module (Optional):
2 White LED panels, 1 High Speed USB Camera
Ball Tracking system:
Spin Module - IR illuminator, 1 Hi-speed, "smart" camera
Club Data Module - 2 halogen bulbs, 1 High Speed, "smart" camera
Ball Tracking system - IR illuminators, 2 High Speed, "smart" cameras
Video Swing Analysis System:
Lighting system/ Fire Wire male 6 pin to 6 pin connector -30"/ Zoom Lens / 2 High speed cameras
Live Internet Play with realtime video and audio:
lapelle microphones, USB web Camera, audio amplifier
Golf Center Management System:
Golf Center Management software, 19" LCD monitor, Dell Precision T3500
Drapery Package:
Stance Mat:
2 Stance Mats 46 1/2" x 46 1/2"
Hitting Mat: Sand sand and rough panels
Hitting Mat 24" x 46 1/2"
Golf Turf: Custom ordered Spring-set nylon
Championship Model Golf Turf with 15 x 18, Spring-set nylon
Standard Model Golf Turf with 15 x 16, Spring-set nylon
Executive Model Golf Turf with 15 x 16, Spring-set nylon
Our golf simulating technology is ideal for luxury homes, luxury hotels, indoor golf centers, recreation centers and golf course clubhouses. We will be happy to assist you in any way to build up the best simulator setups available.